Wuzhou Haisheng Group should be invited to Wal-Mart Online Mall, "Sam's online shopping triple gift raffle"
Author:Chen release time:2016-07-14 source:Wuzhou Haisheng Group
  April 1, 2011, Wal-Mart online store - Sam's Club stores in Wal-Mart China headquarters held a "Sam online shopping triple gift raffle." Haisheng Group as the only member of Sam's distribution shop partners, by the Sam membership store warm invitation, the Group Vice President Chen Yongjie, Yao Jianjing, Liu Haiyang attended the lucky draw ceremony. In order to express our gratitude to the Group for its outstanding performance in cooperation, Wal-Mart presented a thank-you note to our group. In the lucky draw ceremony, Chen, vice president as a lucky draw representative. Mr. Chen first congratulated the winners and wished Sam's Club a prosperous business. At the same time, Mr. Chen expressed his belief that "the customer is the first and the service is the first" as our sole distributor. To the most efficient, best quality distribution services. Chen's speech was warmly applauded by the participants. After the lucky draw ceremony, Vice President Chen and Sam member shop staff pictures.
  I received the Wal-Mart Group issued a thank you
Chen, vice president as a guest speaker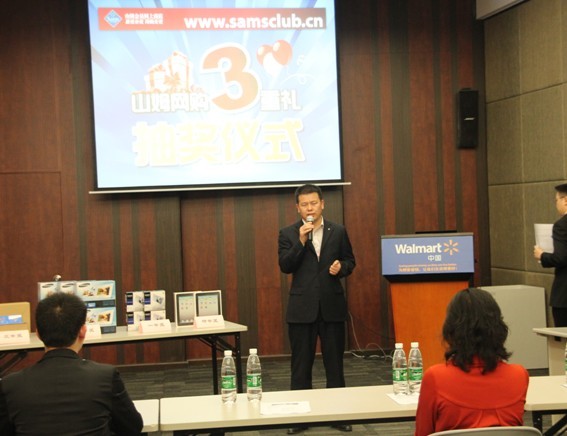 I led the Group and Wal-Mart related personnel photo